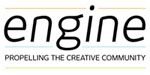 265 Main Street • Downtown Biddeford, Maine
Hours: Tues through Fri 12pm to 6pm • Sat 10am-2pm
Closed Mon and Sun • Call for appointment 229-3560
---

Kim Bernard's "Tertuim Quid" 2012. Photo of Kim Bernard below by Tammy Byron.
OPENING FRIDAY, JUNE 15 from 5-8PM • ARTIST TALK at 6:30PM
STUFF MOVES • KIM BERNARD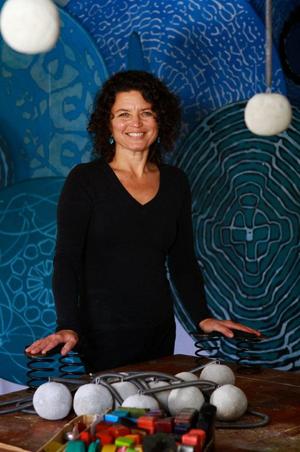 Engine is pleased to bring artist Kim Bernard's "Stuff Moves" solo show to Biddeford. The work in this highly interactive installation is comprised of kinetic sculptures constructed of wax, steel, and springs. Ms. Bernard says:
"My present projects investigate the intersection where the hard and fast science of physics collides with sublime spirituality, playfulness and a pinch of humor. This quest for the magical moment where awe is directed at subjects more powerful than the objects and the 'aha moment' happens in the hands rather than the grey matter. These recent kinetic works invite the viewer to engage the sculptures' motion, as an extension one's own energy, and break the no-touch rule of art."
Kim Bernard shows her sculpture, installations and encaustic works nationally and has been featured in many exhibits, some of which include the Art Complex Museum, Saco Museum, Currier Museum of Art, Massachusetts College of Art and Design, Montserrat College of Art, UNH Museum of Art, Merrimack College and Phillips Exeter Academy and the 2011 Biennial at the Portland Museum of Art. Her work has been reviewed in the Boston Globe and Art News and is featured in the recent publication 100 Artists of New England. Bernard is the recipient of the 2011 Piscataqua Region Artist Advancement Grant. She received her BFA from Parsons in 1987, her MFA from Mass Art in 2010 and currently teaches at the Maine College of Art and Plymouth State University. Bernard gives presentations, lectures and offers workshops nationally as a visiting artist but makes her home and work in Maine.Visit Kim Bernard's web site here.

Please help us welcome Kim to Biddeford. S
he will give an artist's talk at 6:30pm on opening night and continuous artist talks on June 29 during Biddeford's
ArtWalk. "Stuff Moves" will be on display until July 21.
---
LIKE our Facebook page

•

Follow us on Twitter!
For more information, contact: Engine executive director Tammy Ackerman at either director@feedtheengine.org or 207-229-3560.

ENGINE: 265 MAIN STREET BIDDEFORD ME 04005
207-229-3560 • feedtheengine.org